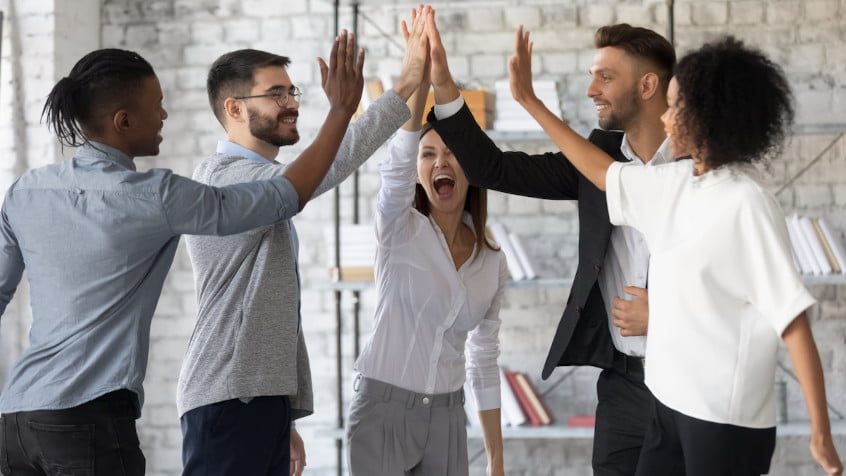 5 Simple Steps to Improve Your Onboarding Experience
March 19, 2023
0 Comments
What process does your office use to train new employees? What is your onboarding experience like at your practice? Is it a smooth and seamless process that almost any staff member could run for you? Several of you are probably thinking, "My onboarding process is chaotic and messy and I feel like I have to be involved in almost every step!" As the practice owner, dentist or orthodontist, you realistically don't have time to train every new employee on every aspect of the office. You also shouldn't have to be the one to provide that training.
It is important to have consistent training, though – so every new employee flows through a relatively similar process when they join the team. But how do you provide every associate with consistent training if you aren't the one providing the training? Once you know what to do, it is actually pretty simple. Once you utilize New Patient Group's 5 Simple Steps to Improve Your Training Experience, your stress will decrease and  you will have a streamlined training process. 
Step One: Write Everything Down
From the company's mission statement, to your sterilization process, to answering a phone call at the front desk, write everything down. All of your processes should be explicitly written out in detail, with example photos included. List out everything an employee at your office needs to know from A to Z, and don't be afraid to have other members of your team help in the creation of this written guide. Everything you need to train a new employee for any position in your office needs to go in this manual.
As you have new associates read through your step-by-step guide, you want to make sure that each new associate in training reads the detailed notes for each position. Reading the notes for each position may sound like a waste of time at first, but it is in fact a timesaver and a culture-builder in the long run. Having your new assistant read and understand the processes that your office manager uses and vice versa, will help each associate develop a new level of understanding and respect for their coworkers. It also provides an opportunity for cross training – so if anyone is out of the office for any reason, any associate in any position can pick up for their coworker and perform their job duties using that step-by-step guide.
Take your detailed list for every position and create a manual or guide, whatever you prefer, and make sure you digitize those documents. Don't just keep one binder in your office with your mission statement and detailed notes for every position. You are creating a story with each position's description, and when you digitize that story, you are preserving the job duties of each employee in your office. Having a digital manual will allow each associate to view the manual on their own screen at any time, and then when you make an update to the manual, every digital version updates at the same time.
Step Two: Video Everything
So after you have created your written guide, you might think you're done discussing each job position. You could stop here, but according to educator Edgar Dale, we remember 10% of what we read, 20% of what we hear and 30% of what we see, and 50% of what we see and hear. When we introduce concepts to our new associates through reading, then repeat those concepts through auditory and visual representations, they are much more likely to retain that information. Practice definitely makes perfect when it comes to good training.
After you write everything out, then video every process. If it's explained in your manual, then it needs to have a corresponding video. You don't need a professional camera crew to capture each process. Just grab an iphone and press record. Capture each process in small, bite-sized videos that are easy to consume. Several large, successful corporations have entire training platforms with multiple videos and training experiences for their associates to use. If you are a New Patient Group client, we have several videos specifically for training on our platform and our clients utilize these videos for their offices. Since you are not a large corporation, but are a small business, you don't have the need for entire training platforms, but that doesn't mean you can't use the same concept for your training. Record everything that an associate would need to learn. Every process, every room setup, every cleaning procedure, every customer greeting – record it all and allow your associates to watch these videos when they're training, or any time they have a question about a specific process.
Step Three: Roleplay and Feedback
Edgar Dale also said we remember 80% of what we personally experience and 95% of what we teach others. Allowing several opportunities for your new associates to soak up their training information is important because the more times they see it, the more likely they will be to retain the information. Your new associates and even your tenured staff, can all greatly benefit from coming together to roleplay eachothers positions and to receive feedback for their process execution.
Set aside about an hour of time each week for your associates to gather together and role play out different scenarios that typically take place in your office. After your new associate has read their manual and watched videos on the assistant position, they should be able to accurately perform the expected tasks of that position in any given scenario. Ask that new associate to demonstrate how to put together an exam tray and how to properly clean that tray afterwards. Once the associate is finished, provide them with feedback on what they did correctly, and how they can improve going forward. If your associate doesn't have the process down yet, this provides them the opportunity to learn from their peers, and it allows you a front row seat at your associates progress.
Your goal at this weekly meeting should be to eventually have each associate role play tasks vital to each position. This is a helpful way to crosstrain your associates and guarantees your office will always have a cover should anyone get sick or leave the company. Blocking an hour of time off of your schedule every week for roleplay and feedback might seem counterproductive, because this means one less hour going toward patient consultations and appointments, but seeing how each individual in your practice handles these scenarios will make you and your associates so much better at their jobs. They will know the entire patient experience process, and that information will only help them to better perform their specific piece of the process.
Step Four: Accountability and Expectations
As a leader, it is your job to communicate clear expectations and to set high standards for your associates. When you begin this training process, teach each new associate the expectations you have for them, and give them accountability to meet those expectations in every weekly meeting. Once your associates know the expectations you have for them, they will strive to meet them.
Use each weekly meeting and roleplay scenario to teach the new associate who is struggling to grasp a new concept or to finetune the process of another employee's role. Make sure you don't discourage your associates, but instead provide clear feedback and constructive criticism if they need. Your associates will want to learn more about the practice once they are exposed to more. They will respect their peers more once they understand each piece of their coworkers' jobs, and they will respect you more when they are given the chance to learn and grow.
Step Five: Do it all Together
In every business, one of the most crucial aspects of employee retention is cultivating togetherness. If your business has a strong culture and everyone feels like they are a part of that culture, your associates will want to work their hardest for you.
Because you are a small business, every employee's job is vital to the success of your practice. No employee should feel they are above any one job, and no employee should feel like their job is unimportant. When you practice these steps together, it reminds your associates that they are a team. It reminds them there is no division or anything that separates them from one another. When each member of your team hears from other members, they are exposed to more of the story that you're trying to write as a business owner.
Here at New Patient Group, we want to help you win regardless of the economy, regardless of your toughest competition, and regardless of whatever you think is holding your practice back. Our team is serious about guiding you and your team. We take pride in leading you and your associates to success with our evolutionary coaching and marketing techniques. We are confident that if you implement these 5 steps, your training experience will win you back time, lessen your office's chaos, and develop each of your associates into the very best team members possible.