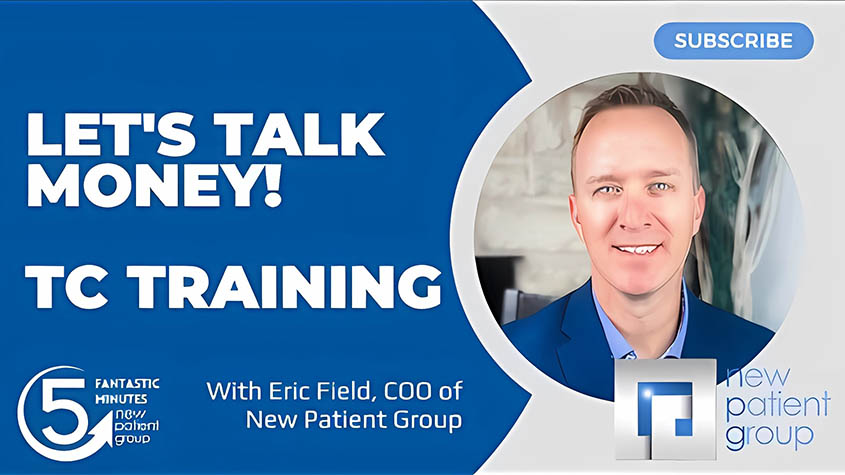 Let's Talk Money: Start With Good News
February 24, 2023
0 Comments
For orthodontists and their staff, first impressions are everything. As your patients move throughout your office, your desire is for them to enjoy each interaction, which is why you meticulously hire specific employees and maintain an office mantra. New Patient Group is here to help each member of your staff provide the best experience possible for every patient that walks through your doors. 
It probably didn't take much convincing to get your patients excited for their new smile. Of course your patients are thrilled to see the end results of their treatment. However, it's not always a simple task to get them on board with the cost of treatment. Is there a proper way to relay the financial commitment to your clients? Of course there is!
In this segment of New Patient Group's 5 Fantastic Minutes, we have an expert tip for the Financial Coordinators at your office. This position is vital to the success of your orthodontic office. As they check patients' orthodontic coverage and  insurance eligibility, Financial Coordinators have the unique opportunity to influence a patient's decisions to either begin treatment at your office, or to decline treatment with you. 
The way your Financial Coordinator delivers a patient's treatment cost and financial responsibility has to be done in a positive light. You might be asking, "How can you relay financial obligations in a positive light?" Well, you have to start with good news! Remind your patients that you care for them and want what's best for them. For example, start by showing them they have a win in the bag right away. "Great news Mrs. Johnson! I did some research on your insurance and found some great news! You have $1,500 toward your orthodontia coverage! This is really fantastic news and not a lot of our patients have that value. This will really help you get started in treatment as soon as you're ready."
Starting with great news like this reminds your patient you have their best interest in mind and are there to go to bat for them. When you remind them you are their advocate, it makes their decision to commit much easier. Start with the good news and then continue to explain the payment options to your patient. Each part of your office's interaction with the patient plays a vital role in their overall experience, and your friends with New Patient Group want to help you perfect every piece of that experience. Be on the lookout for more of our 5 Fantastic Minutes videos and blogs to stay up to date on our latest and greatest tips to perfect your practice.