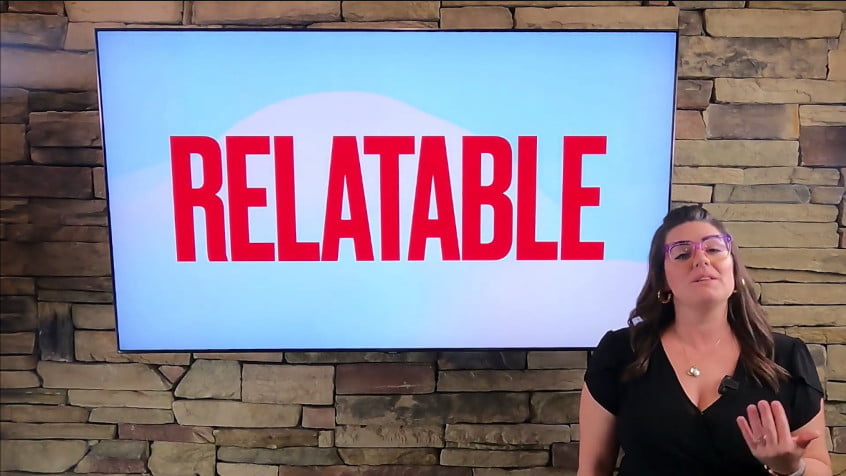 The 4 Essentials to Exceptional Online Marketing Content
April 10, 2023
0 Comments
Part 2: Be Relatable 
As an orthodontist, you have probably participated in several interviews in order to hire new associates to join your team. Think back to the best interview you have ever facilitated. What made that interview so wonderful? Was it that the candidate answered every question perfectly and had a resume far more impressive than the others? Well, I am sure some of those factors played into the impressive nature of this candidate, but a piece of their interview that probably won you over without you even realizing it was your ability to relate to something they said or some interest they have. We connect with others when we can relate to them in some form or fashion. Job candidates that you are able to relate to are more likely to leave an impact on you even after the interview is over.
This is due to the fact that it is an innate human response to trust someone to whom you can relate. Being relatable is defined as making or showing a connection between; feeling sympathy with or identifying with. It can also be defined as enabling a person to feel they can relate to someone or something. When you allow someone an avenue to relate to you, you metaphorically build a bridge from your story to theirs. Relating to others allows us to build rapport and deepen relationships with others. Being relatable is crucial for orthodontists to obtain and retain more patients.
As orthodontists and dentists, why is it so important for our patients and potential patients to think we are relatable? Can't we just promote our skills and talents in orthodontic treatment? While skills and talent will take you a long way, it is the ability to be relatable that will set you apart from other doctors in the industry and will ultimately help you win over your clients. People want to work with doctors they can identify with and feel comfortable around.
One way to relate to those potential patients is by utilizing your social media platforms and creating content that bridges the gap between you and your audience. It is imperative to get creative with this content and how you relate to your audience, because they are much more likely to relate to the non-clinical side of you and your team than the clinical side. Your audience isn't going to understand the clinical terms until you explain them, and they aren't going to listen to your explanation until they feel they can trust you! So the first step to winning over new patients and maintaining current patients is by relating to them in any and every way.
Our VIP Coaching Team at New Patient Group does a fantastic job of getting to know our clients on a personal level so we can assist you in bridging that gap. We take the time to get to know each of our clients by learning their personal interests, hobbies and families. The more we know about our clients, the better we can assist them in creating social media posts that are relatable and that speak to potential patients, and that is one huge perk of working with the NPG team.
It is critical for both the doctors and the staff to be relatable to the audience. One way to help your entire team relate to your audience is to use social media trends as an opportunity to showcase the human side of everyone in your office. Take your own creative spin on video trends you see your potential customers create. Capitalize on the relevant trends, like we discussed in part one, and add in relatable stories.
One example of creating relatable content from our client Lustig and Young Orthodontics pairs a relevant TikTok filter with the relatable question, "Do you love your job?" Pairing an already relatable question with a trendy filter allowed their audience to see a silly side of them. A great contrast to the usual seriousness of clinical work. These posts give your audience and potential patients an opportunity to see the human side of your office, so they can feel comfortable before they even step foot into your office.
Remember to share stories about yourself with your audience. Share your wins, questions, hobbies, personal interests, likes and dislikes, and show them the real person behind the clinical position. Your patients and followers want to know who you are outside of your practice. One of our clients, Dr. Heinz, has a great example of relating to his patients on the practices' Facebook page. Dr. Heinz shared an image of himself playing wheelchair basketball in the Navy vs. Army game at the UNs International Day of Persons with Disabilities. This post ended up being super popular with Dr. Heinz' audience because it uncovers a hardship he's dealt with while showcasing how he has overcome that experience. Everyone deals with hardships, and this inspirational post is extremely relatable and inspiring at the same time. Dr. Heinz created a bond with his audience without even having a conversation with them. That is the true power of social media!
The know, like and trust factor is built from who you are. Our NPG VIP coaches do a great job of teaching our  clients how to build the know, like and trust factor and how to build a relationship with patients using psychological principles. Want to learn more about being relatable and how you can use it in your office?  Check out our On Demand coaching content focused on sharing your story!
Keep following along and reading our blog posts over our four part series as we continue to explore the Essentials to Exceptional Online Marketing Content. You can be the best clinician in the world, but if you are not relatable, people will take their business elsewhere. Remember to be relatable and show your patients and potential patients the side of you they don't get to see as often during an appointment.