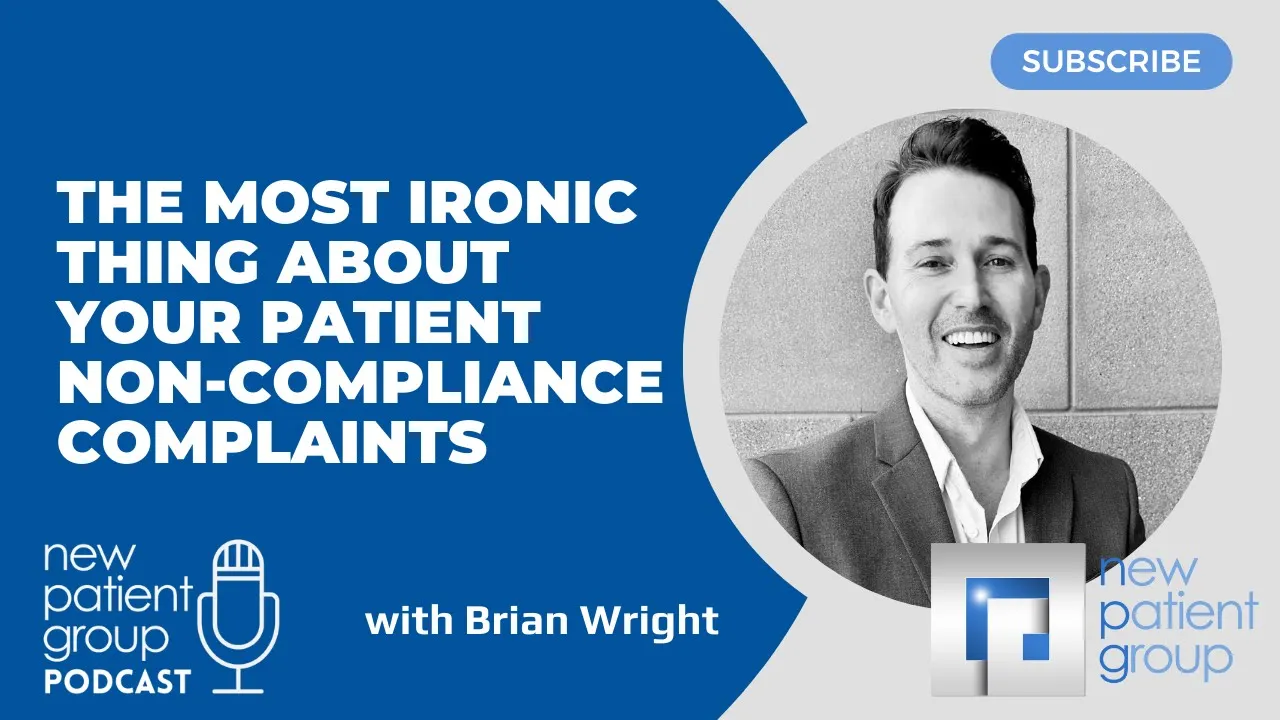 The Most Ironic Thing About Thing About Your Non-Compliant Patients
September 22, 2023
0 Comments
Most of you have probably dealt with a non-compliant patient at least once in your time as an orthodontist or dentist. When you prescribe a patient specific treatment, treatment that you customized for their unique smile, in order to give them the smile of their dreams, and they are non-compliant for no good reason, it can be extremely frustrating.
Oddly enough, our team at New Patient Group understands your frustration because we have experienced the same non-compliance first hand from some of our clients. Our team has seen the frustration through our clients eyes, as well. We know you have struggled to fill your schedules with appointments, or b frustration because of no-show patients and patients that seem so excited about committing to treatment, but you never hear from them again. Non-compliant patients can be infuriating, and they can also really affect your business.
When a patient fails to comply, who do you blame? Do you blame the patient, or do you blame yourself and your practice? It's pretty likely that you blame the patient. I mean, it's not your fault they failed to wear their retainers for at least 22 hours a day, but your practice will take a financial hit when they need six additional months of unexpected treatment.
If you could relate to your patients, and understand why they are non-compliant, maybe it would help you alter the patient experience in a way that reinforces compliance.
A Non-Compliance Contradiction
Obviously it is difficult to have non-compliant patients, because you truly want them to have the best treatment results, not just for you and your practice, but also for their future and for the health of their smiles. But, the irritation you feel toward your non-compliant patients is actually quite the contradiction. Many of our potential clients and many other practices, are actually just as guilty of non-compliance as their patients when it comes to doing their part and fully embracing the tools and services at their disposal.
Some of the practices we talk to have all of these great tools in their toolbelt such as, OrthoFi, Dental Monitoring, and Invisalign, and they write these business off, stating that they don't actually work and that their practice doesn't need them. After a small trial period, they decide outsourcing isn't helping and they ditch the tools. But the irony here is it was never the outsourced companies fault. If these professional, very successful companies like OrthoFi, Dental Monitoring, and even Invisalign, don't generate substantial success in your practice, it is likely that the failure is your fault, not the businesses fault. Again, when a patient isn't compliant, do you blame yourself, or do you blame the patient? When a professional business isn't successful in your company, do you blame the business or do you blame the client, aka, you?
Now, we understand that non-compliance isn't intentional. Of course you want these companies to work miracles and for your practice to thrive because of them. But the shift can be difficult. Several practices try to successfully work with these new practices, but they continue to operate by analog standards.
Before you can correct your compliance issues, let's take a closer look at some non-compliance examples.
Examples of Non-Compliance in your Practice
It's pretty easy to understand why your patients struggle with compliance at times, but it can be much more difficult to pinpoint why your practice struggles with non-compliance. We understand compliance can become difficult when it comes to fully utilizing the tools and services offered by orthodontic and dental companies. Some non-compliant examples are below. See if your practice has ever been non-compliant in some of these scenarios.
1. Digital vs. Analog Practices: Like we mentioned, several practices finally decide to try out these new digital tools and companies, but they still operate on an analog practice. For these outsourced digital companies to fully and seamlessly integrate with your practice, you have to embrace the digital workflow tools. This requires precise training for your whole team and should even alter the verbiage your team uses. If you capitalize on the services these outsourced businesses provide and allow for their integration, then they become powerful resources that can skyrocket the efficiency and effectiveness of your practice's patient care.
2. Missed Coaching Opportunities: We see a lot of practices open to these digital tool companies like OrthoFi, Dental Monitoring, and Invisalign. This is a great start, but these companies don't know how to coach you and your team so that these new practices are ingrained into your practice's culture. Outsourcing digital services like these really requires a business trained in consulting and coaching. That's where our New Patient Group comes in to save the day. Allowing New Patient Group to coach and train your team into a different approach to running a practice, because you are using different tools! New Patient Group, WrightChat, and OrthoFi can help you shift your culture to maximize the benefits of these digital tools. We can help you marry your businesses most important beliefs with the effectiveness of these third party businesses. Our main goal is to help you use these tools effectively by redefining how your practice operates and shifting the focus from just the clinical, to the customer experience.
3. Resistance to Change: Similarly to some of your non-compliant patients, you may also be hesitant to adopt new practices and technologies as well. Change is scary, especially when the change could alter your entire practice as you know it. And the good news is, it will alter your practice! In the best way possible. These businesses were created to change and improve orthodontic and dental practices, so believe that they can and give the new companies your best effort, too. If you stick with outdated approaches, chances are it will hinder your potential and you will get outdated results.
So how can you correct your contradiction? First of all, understand and recognize that you are the non-compliant patient in many scenarios. When you decide to take on a new business, remember to:
Practice open communication
Express your desire and willingness to learn
Allow yourself to be coached
Update and upgrade your practices
Maintain a strong culture
So, the next time you have a non-compliant patient sitting in your chair, use it as a reminder to evaluate yourself. Are you being a compliant customer and putting in the necessary work it takes to fully utilize your outsourced companies? Are you proactively reaching out to these companies to receive feedback, to access additional tools, and to express your desire to continue learning? There is so much untapped potential in these third party companies. They have the potential to change your practice if you let them. And if you do, we know you'll be pleasantly surprised by the success that follows.
Our New Patient Group team is ready to help you take your practice to the new level through transformational coaching and training. We are here to help you find the perfect outsource companies and know just how to fit these new digital methods into your culture to maximize your businesses success.