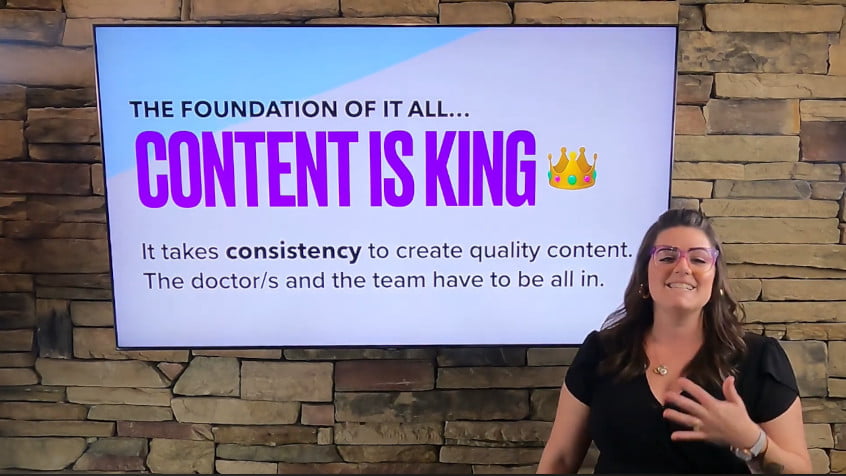 The 4 Essentials to Exceptional Online Marketing Content 
Part 1: Staying Relevant
Some of us might remember pulling out the yellow pages to search for a local orthodontist. Back then, you chose one based on proximity and personal experience stories from your close family and friends. As our technology improves, our methods of gaining new patients and utilizing technology must also improve. Nowadays, you can search for a new orthodontist right from your phone, read hundreds of reviews and develop an understanding of how that practice runs, all from your cell phone.
Did you know that the average person views more than 10,000 marketing messages on any given day? This is nearly double the number of marketing messages the average person saw a day in 2007. Content consumption continues to grow, and with the use of smartphones, it is easier than ever for individuals to consume content. If your future patient is scrolling past as many as 10,000 marketing messages a day, that is actually really good news for you. That gives you and your practice several opportunities each day to be one of the marketing messages your future clients and potential clients view. Your practice has ample opportunities to be discovered by new patients, all you have to do is produce consistent content to keep your practice's name in the forefront of their mind.
Now, marketing to your potential patients and navigating a technologically advanced generation isn't your expertise, we understand that! But it is our expertise at New Patient Group, and we have 4 Essentials to Exceptional Online Marketing Content we'd like to share with you.
The first essential is relevancy. To be relevant means to be appropriate to the current time, period or circumstances. Staying relevant means jumping on trending topics and creating seasonal content to capture your audience's attention. Our team here at NPG does an exceptional job teaching doctors and team members the proper way to capture amazing content. They are truly the experts and can teach you the best way to capitalize on your content.
One thing our Digital Marketing Team here at New Patient Group does a phenomenal job with is staying up to date on trends and feeding those to you so you can capture this content in your own practice and feature it on your social media platforms. Our team will curate various marketing ideas and will delegate project tasks to your associates so your content can really work for you! 
A really important piece of staying relevant on social media is to keep up with the trends, yes, but to also have fun in the process. Every video and post should feel genuine, and if you and your staff are having fun, then your audience is much more likely to feel your genuinity and respond positively to that. You have to be where the potential clients are; TikTok, Twitter, Instagram, Facebook and YouTube are our main social media outlets for connecting with potential clients. As you focus on creating content for your client base, remember you have parents viewing your social media as well as their children, so you have to cater to both audiences.
A great way to capture content that will be a hit on social media is to consume content, or ask your kids what they see on social media. If its popular on social media, chances are you can capitalize on it as well. Use the popular TikTok filter, or create a reel to the latest popular instagram sound. Showcase orthodontic processes patients care about in a fun and lively YouTube video. Create contests and interactive posts on Facebook so your patients and potential patients can interact with your practice.
Some of our long term clients, like Dr. Whitlock for example, have really become excellent content creators and know how to capture content in their office in a way that allows our NPG team to tweak it a few different ways so it works for various different social media platforms. Another one of our long-term clients, Dr. Varble, really highlights how consistently creating content can make your entire team more comfortable behind the camera, and ultimately relays a better story to your viewers because they can almost feel the fun your team is having. The more comfortable you become with capturing content, the more ideas for good marketing will flow through your office, naturally.
The best part of utilizing our resources, various social media platforms, and staying relevant is that we can do all of this and still be educational. As you capture content in your office, even if you place a catchy TikTok sound over the video, you are still providing clinical education for viewers, and that is a really unique space to be in. Our NPG team knows how overwhelming digital marketing can seem at first, and that is why we want to partner with you. Our team loves creating relevant content, and we love making a piece of your job feel lighter.
Remember to follow along our four part series and see what the second Essentials to Exceptional Online Marketing Content is in our next blog post. We encourage you to get on social media this week and get inspired by other content. Find a post you think is fun, or utilize a current trend to promote your office! Remember to research and stay relevant!